Arien Shipe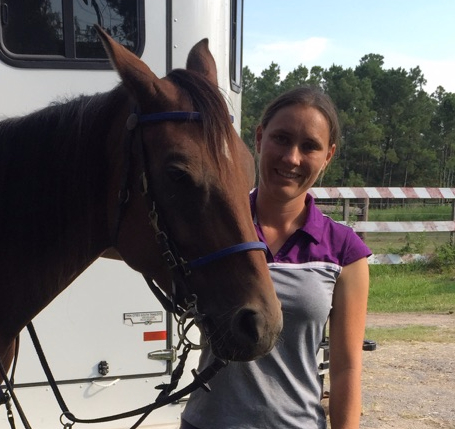 "I was born in the state of Montana and around horses from a young age. My parents had a business in historical reenactments making horses a big part of my childhood."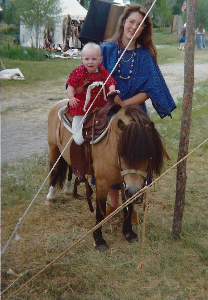 (Me age 1 year in the red dress on my first Buckskin horse)
"After moving to Texas, I started taking official riding instruction at Five Horses School of Horsemanship. It was there I studied equine body language, the basics of riding, natural trim farrier work and the beginnings of how to train horses. After four years of instruction I became an assistant manager and trainer of a large riding stable that housed over one hundred horses. I studied under two professional farriers who helped me improve my skills drastically. It was during this period I got my first and second horses, my first gelding Houston and my first colt/stallion Canyon. I cannot state enough how much I learned from them both! Your best teacher is always your horse! I also achieved three training certificates of which I am very proud of. Never under estimate the ability of determination and perseverance!"
"I returned to Five Horses, this time as a trainer, barn manager and instructor. It was during this time Kyli Ring and I formulated our own instruction program and training style, Isi Seiyr! We taught at Five Horses for three years until we set out on our own in 2012. By late 2012 our training program had fully flourished! I thank God every day for the amazing blessing he has provided in giving me a job I love and am passionate about."